Archive: October, 2018
When one looks across the ever increasing world of American single malt whiskeys, a standout in the crowd is easily the Colkegan from New Mexico-based Santa Fe Spirits.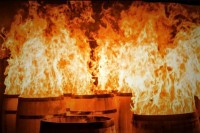 Apple Brandy Cask Finished Colkegan - why the barrel matters, with coopering insights from Britney Wimsatt of Kelvin Cooperage.
In the Fall 2018 Whiskey Advocate Adam Polanski tried all three of our Colkegan Single Malts, here are his tasting notes.