About Us
Santa Fe Spirits was founded by Colin Keegan in 2010 with the goal of becoming the Southwest's pre-eminent artisan distillery. With products ranging from silver whisky to barrel-aged apple brandy, Santa Fe Spirits is a relatively small distillery proud to be producing exceptional spirits designed to capture and accentuate the essence of the Southwest. Please stop by the distillery for a visit and we will be happy to show you what making world-class spirits are all about.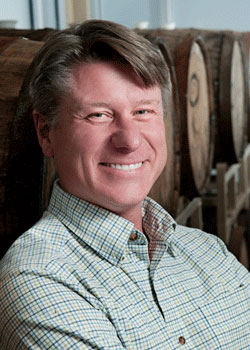 Colin Keegan
Whiskey Aficionado and Owner
Upon leaving his native country of England in 1990, Colin moved to the British Virgin Islands where he met his wife, Suzette. Two years later, Colin and Suzette decided to move to Santa Fe with their daughter Phoebe, where Colin continued his successful career as an architect and Suzette found endless inspiration for her paintings. The Keegans soon realized their dream of living in Tesuque, a traditional farming community just outside of Santa Fe, and built their home on a mature apple orchard with trees ranging from young saplings to massive centenarians. The orchard produces a great variety of heirloom apples, and every fall apple picking and juicing is an enjoyable and rewarding activity. However, the orchard is so productive that the abundance of apple cider is always an issue. Thankfully, a solution was literally fermenting the whole time, although Colin did not yet know where this solution would take him or how long it would be before it became a reality. Colin has always appreciated good Scotch and Brandy, so when the economy took a turn in 2009 he closed down his architectural business in order to concentrate on building a distillery where he could produce his own style of these traditional spirits. For Colin, the birth of Santa Fe Spirits in 2010 was the dream of a lifetime.

Caitlin Richards
Business Manager
Caitlin earned a BA in Drama with a communications focus from Hofstra University, which left her well suited to a career in the restaurant and spirits industry. Caitlin has experience in all three tiers of the three-tier system. She managed a busy bar in Santa Fe before transitioning to the distribution side of the industry. After leaving the industry for a brief stint in publishing, Caitlin was wooed back to the spirits world by the chance to work for a distillery. In her spare time Caitlin creates ceramic sculptures and hangs out on her porch with Spike, her favorite neighborhood skunk.

Stephen Julander
Head Distiller
Stephen Julander grew up in Corrales, New Mexico and graduated with a B.S. from the University of New Mexico in 2008. After meeting Jake Norris, Founder of Stranahan's Colorado Whiskey, in 2011, Stephen was brought on as the first distiller to Laws Whiskey House, Jake and Alan Laws' new distillery. As the small distillery grew, Stephen moved to the lead distiller position, running production and all aspects of the distillery, helping modify and create Bourbon, Rye, Barley, Wheat, and Corn Whiskey. Looking to grow his knowledge base, Stephen departed LWH and in 2018, Stephen was brought on as the Head Distiller to begin the Brush Creek Distillery on the Brush Creek Ranch in Saratoga, Wyoming. At this 30,000-acre luxury ranch, he was able to show his skills blending and distilling their signature Bourbon and Rye whiskeys, along with creating and distilling their Gin, Vodka, Agave Spirit and Run. When COVID-19 hit, he spearheaded a sanitizer program to provide free sanitizer to first responders and locals in this rural county.
In 2020, Stephen Julander became the Head Distiller on for a new distillery in the California's Delta region. The Sabbatical Farm Distillery, built on Victoria Island Farm, featured spirits based on the products grown on the farm, using solely solar energy. Here he created the "Sabado Gin", distilled whiskeys to match the currently sourced of the Bourbon and blended whiskeys, and helped create liqueurs.
With this contract fulfilled, Stephen Julander was drawn home to his native New Mexico to be closer to family. Distilling at Santa Fe Spirits is a homecoming that he has spent his entire professional career preparing for. "I am proud to be a part of a great distillery with wonderful spirits, I feel my accumulated skills will continue to bolster the established tradition we have here at Santa Fe spirits. I am honored to be a part of the family."
Stephen spends his off time with his wife and many animals building their farm in Pecos, NM.
X Johnson
Retail & Marketing Manager
Kevin White
Sales Director, New Mexico

Chris Porvaznik
Assistant Distiller
Originally from Philadelphia, with strong family ties in South Jersey, Chris attended Saint Joe's Prep, and studied geography after graduating. He was a bike messenger for many years, but after traveling throughout the West, he knew it was time to leave the East Coast. He settled in Santa Fe with his partner Jamie and never looked back. Chris is grateful to be in New Mexico and is happy to learn all things distilling. Chris loves cycling, camping, hot springs, and sandwiches.

Zia Cross
Tour Guide, Bartender
Zia Cross was born and raised in NM. She started working in the service industry at age 16 and has been a cocktail waitress, food prep, server and bartender on and off throughout her life. Zia spent most of 20's and 30's traveling and living in different places including most of the West Coast, Mexico, and China. She received a degree in audio engineering, graduating three days after 9/11. Unable to find work, she came back to Santa Fe to visit and ended up finding work and housing easily, so she packed up and moved back home in 2002. Zia worked as Associate Producer for a film production company then moved on and opened up a nightclub and liquor store before letting her entrepreneur flag loose. She has spent the last several years growing her business. Zia is "All about having fun so cooking, creating wellness products and hosting distillery tours are a great fit."