About Us
Santa Fe Spirits was founded by Colin Keegan in 2010 with the goal of becoming the Southwest's preeminent artisan distillery. With products ranging from American Single Malt Whiskeys to barrel-aged apple brandy to a whiskey liqueur that's unlike anything else in the market, Santa Fe Spirits proudly produces exceptional spirits designed to capture and accentuate the essence of the Southwest. Stop by the distillery for a visit and we will be happy to show you what making world-class spirits is all about, or head to our downtown tasting room to experience our spirits in a range of cocktails.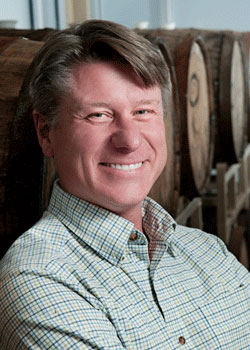 Colin Keegan
Whiskey Aficionado and Owner
Upon leaving his native country of England in 1990, Colin moved to the British Virgin Islands where he met his wife, Suzette. Two years later, Colin and Suzette decided to move to Santa Fe with their daughter Phoebe, where Colin continued his successful career as an architect and Suzette found endless inspiration for her paintings. The Keegans soon realized their dream of living in Tesuque, a traditional farming community just outside of Santa Fe, and built their home on a mature apple orchard with trees ranging from young saplings to massive centenarians. The orchard produces a great variety of heirloom apples, and every fall apple picking and juicing is an enjoyable and rewarding activity. However, the orchard is so productive that the abundance of apple cider is always an issue. Thankfully, a solution was literally fermenting the whole time, although Colin did not yet know where this solution would take him or how long it would be before it became a reality. Colin has always appreciated good Scotch and brandy, so when the economy took a turn in 2009 he closed down his architectural business in order to concentrate on building a distillery where he could produce his own style of these traditional spirits. For Colin, the birth of Santa Fe Spirits in 2010 was the dream of a lifetime.

Caitlin Richards
Business Manager
Caitlin earned a BA in Drama with a communications focus from Hofstra University, which left her well suited to a career in the restaurant and spirits industry. Caitlin has experience in all three tiers of the three-tier system. She managed a busy bar in Santa Fe before transitioning to the distribution side of the industry. After leaving the industry for a brief stint in publishing, Caitlin was wooed back to the spirits world by the chance to work for a distillery. In her spare time Caitlin creates ceramic sculptures and hangs out on her porch with Spike, her favorite neighborhood skunk.

Stephen Julander
Head Distiller
Born and raised in NM, Stephen Julander found his way to Denver, Colorado after graduating from the University of New Mexico. He started his distilling career at Laws Whiskey House, as their first distiller, where he cut his teeth making all forms of 'grain-on' whiskey, developing a very particular Colorado style. Stephen then went on to start the Brush Creek Distillery at an all-inclusive guest ranch in Saratoga, Wyoming. There he created all recipes - whiskey, gin, rum, vodka and more - and began a barrel sourcing and aging program for their newer aged spirits. After the distillery was running and producing award winning spirits, Stephen took his skills to California to start Sabbatical Farm Distillery at Victoria Island Farms in Holt, CA. Building out this distillery and creating recipes that featured spirits based on the products grown on the farm, using solely solar energy, was a unique project that allowed him to properly hone his skills. Following this contract's fulfillment, Stephen Julander was drawn home to his native New Mexico to be closer to family. Distilling at Santa Fe Spirits is a homecoming that he has spent his entire professional career preparing for. "I am proud to be a part of a great distillery with wonderful spirits, I feel my accumulated skills will continue to bolster the established tradition we have here at Santa Fe spirits. I am honored to be a part of the family."
Stephen spends his free time with his wife and many animals, building their farm in Pecos, NM.

X Johnson
Retail & Marketing Manager

Vince Wilson
Sales Director, New Mexico
Vince Wilson has lived in many states across the U.S., but planted roots in Albuquerque, NM almost six years ago. Vince's passion is anything to do with the liquor industry and his goal is to be well rounded in all things liquor. Vince is a dog dad of four, and had his first child in August 2023.

Martin Mosman
Assistant Distiller
From the tough streets of Minneapolis, MN, Martin was wooed by the (warm weather) scenic mountains and sunsets of New Mexico. An ARMY veteran of 6 years, Martin spent time in Georgia, Kentucky, Alaska, Wisconsin, and Minnesota during his enlistment. He went on to earn a BA in History/Political Science/Art History from the University of Minnesota, which left him a prime candidate for any coffee shop or bookstore that would hire him. A jack of all trades and master of none, Martin worked in accounting departments, life insurance call centers, computer repair centers, restaurants, retail sales desks, and various industrial warehouses. After moving to the land of enchantment in 2021, he found his calling and an opportunity to build on the skill set that he acquired through years of experimenting with other lines of work. As an assistant to Stephen at Santa Fe Spirits, Martin will be learning the ropes of the distillation process and provide general help to his coworkers and guests.
In his spare time, Martin loves to take on many woodworking projects and furniture building. Music is a big part of his life, and he plays a variety of instruments. A sucker for anything Major League Baseball, Formula 1 and MotoGP racing tops his charts. Along with basketball, hockey, cricket, cycling, tennis, or anything related to sports memorabilia. He likes to travel and has even had an opportunity to visit Constantinople in 2005.

Mesquite .
Distillery Cat
Mesquite heard we were looking for a distillery cat, so she came in and asked for the job. Within minutes we were all in love with her and the decision to take her on was the easiest hire we've ever made. It didn't take her long to get comfortable in her new space and she now regularly patrols the offices, tasting room, barrel house, distillery, and warehouse. Her only disappointment is that we don't have enough mice. Mesquite frequently helps out on tours, and she likes to greet people in the distillery tasting room.
Mesquite was Santa Fe Spirits Employee of the Month for June, 2023, July 2023, August 2023, September 2023, October 2023, November 2023